The Clear Method, Ron Black
Template Description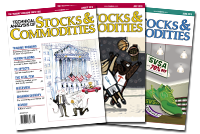 In the September and October 2010 issues of Technical Analysis of Stocks and Commodities, Ron Black presented the Clear Method as a way to determine the direction of short term price swings. It is an indicator that works "in all time frames, requires no calculation, and has no delay". It is based on the statistical idea that when two distributions overlap no change has likely taken place and that when they don't overlap it is likely something has changed.
This template in EdgeRater analyzes all stocks in your chosen symbol list and produces a report that shows the current swing direction, number of bars in the current direction, % of noise bars in the current direction, and also reports on the tendencey of each stock to exhibit noise and clearing bars in 7 different time frames.
One use of this report is to immediately see which stocks have started a new swing direction. By default the report is sorted with those stocks at the top of the list. By sorting and filtering on the other columns you can do many other things like for instance find all stocks that have a low noise % over the last year that have had at least 3 bars in a new swing direction where the previous swing lasted at least 20 bars. That's just one example of any number that you can easily come up with.
More Info
CategoryStocks & Commodities Magazine
Release DateAugust 2015
TagsScan, Seasonality
DownloadSample Report
More InfoBlog Post
Please subscribe to the EdgeRater YouTube Channel to be notified of new helpful videos